November 28, 2022 – CyboSoft (Rancho Cordova, California), the developer of Model-Free Adaptive (MFA) control technology and products, announced today that it has recently been awarded a U.S. patent that enhances its patent portfolio in advanced control and artificial intelligence (AI) technologies. The awarded US Patent 11,462,089, "Smoke Auto-Detection and Control for Industrial Flares", has significant technical and economical benefits.
CyboSoft CEO Dr. George Cheng said, "CyboSoft is well known for its Model-Free Adaptive (MFA) control technology and software that have been widely deployed for industrial process control, building automation, and equipment control. As a pioneer in AI technology, CyboSoft developed MFA control with Artificial Neural Networks (ANN). CyboSoft's latest smoke auto-detection technology uses AI to enable refineries and petrochemical plants to comply with EPA rules at all times to protect our environment."
Based on the patented flare smoke auto-detection technology, CyboSoft developed CyboFlare software as shown in the following screen. CyboFlare can automatically detect smoking events from live flare videos, send the Smoke Level data to DCS for alarming and control override to quickly stop the flare from smoking.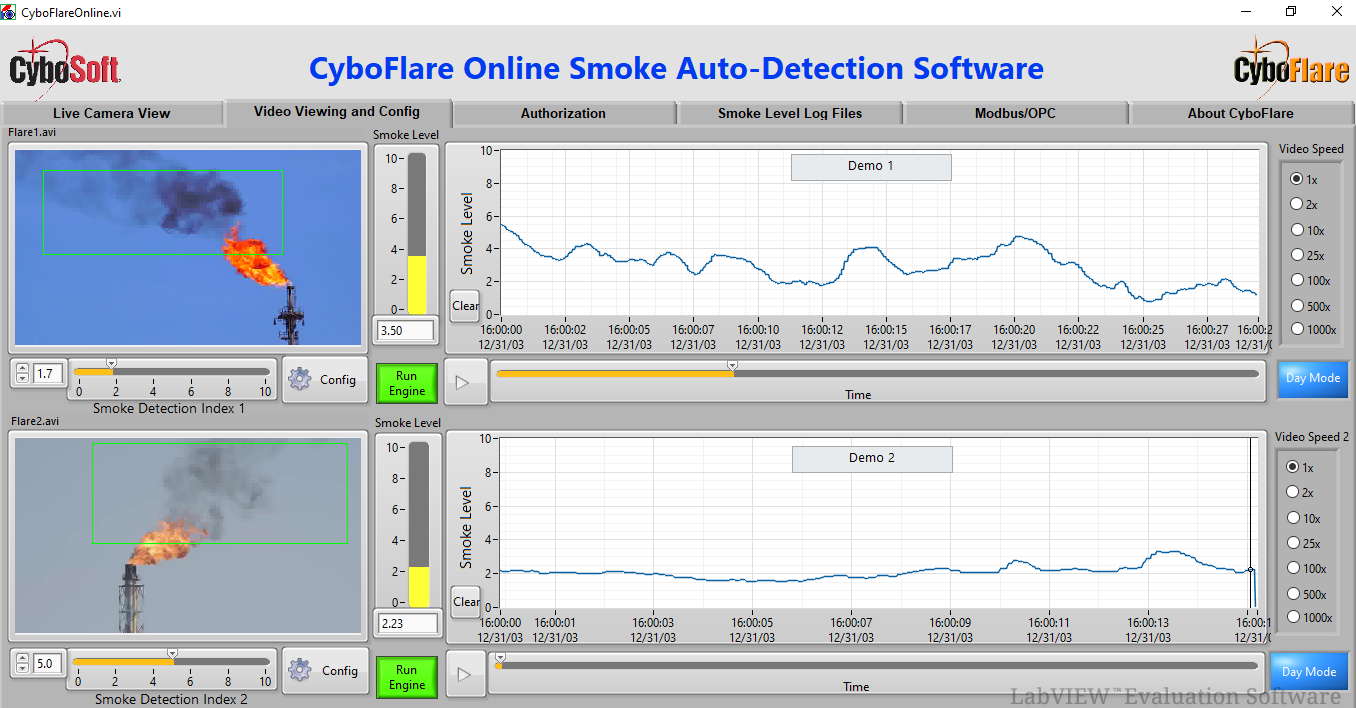 The regulations by the United States EPA (Environmental Protection Agency) (CFR-60.18) require industrial flares to operate with no visible emission. Most oil refineries and petrochemical plants in the U.S. have installed video cameras to monitor their flares 24/7 and save videos in a computer system ready for EPA's audits. Operators are trained to watch real-time flare videos all day long. When a smoke event occurs, the operator is responsible to catch the event and take immediate actions. Typically, a steam or air valve is opened by the operator through a control system override function to add a lot of air or steam to assist flare combustion so that the flare can get out of the smoking condition quickly.
CyboFlare has an online mode that can connect to one or multiple video cameras over a communication network so that live flare videos can be viewed and analyzed by a smoke auto-detection engine in real-time. The smoke conditions are reported using Smoke Level, a value in the range of 0 to 10, where 0 means no smoke and 10 indicates that the flare has the highest smoking condition. The Smoke Level can be sent in real-time to the plant DCS to trigger an alarm, and control override actions can be taken automatically by the DCS to take the flare out of smoke quickly. CyboFlare also has a historical mode where the saved Smoke Level data can be reviewed for smoke condition tracking, reporting, and EPA auditing.
CyboSoft offers CyboFlare software with perpetual or annual software license options. CyboFlare Demo software is available for potential customers to test with their saved flare videos. CyboSoft also hosts Webinars to demonstrate CyboFlare and its features and benefits.
About CyboSoft

CyboSoft is the leader in control technology serving the worldwide process control, building control, and equipment control markets. CyboSoft's patented Model-Free Adaptive (MFA) control technology for automatically controlling physical processes is a major breakthrough. No other comparable technology possesses all the attributes of MFA. CyboSoft received the 2007 Frost & Sullivan "North America Technology Leadership Award" in the field of Industrial Automation. MFA is the only commercially successful smart controller that does not require mathematical models, and can play a major role in the 4th Industrial Revolution.