July 10, 2012 – CyboEnergy, a subsidiary of CyboSoft, General Cybernation Group Inc., (Rancho Cordova, CA), announced today that it is showing CyboInverter, the world's first solar power Mini-Inverter at Intersolar NA in San Francisco on July 10-12, 2012.
CyboInverter is a patent-pending grid-interactive Mini-Inverter that has a low per watt price like a Central Inverter, but all the features and benefits of a Microinverter. As shown in the picture, each 4-channel CyboInverter can connect to four 220W to 280W solar panels using 4 pairs of MC-4 connectors and generates up to 960W AC power to the grid.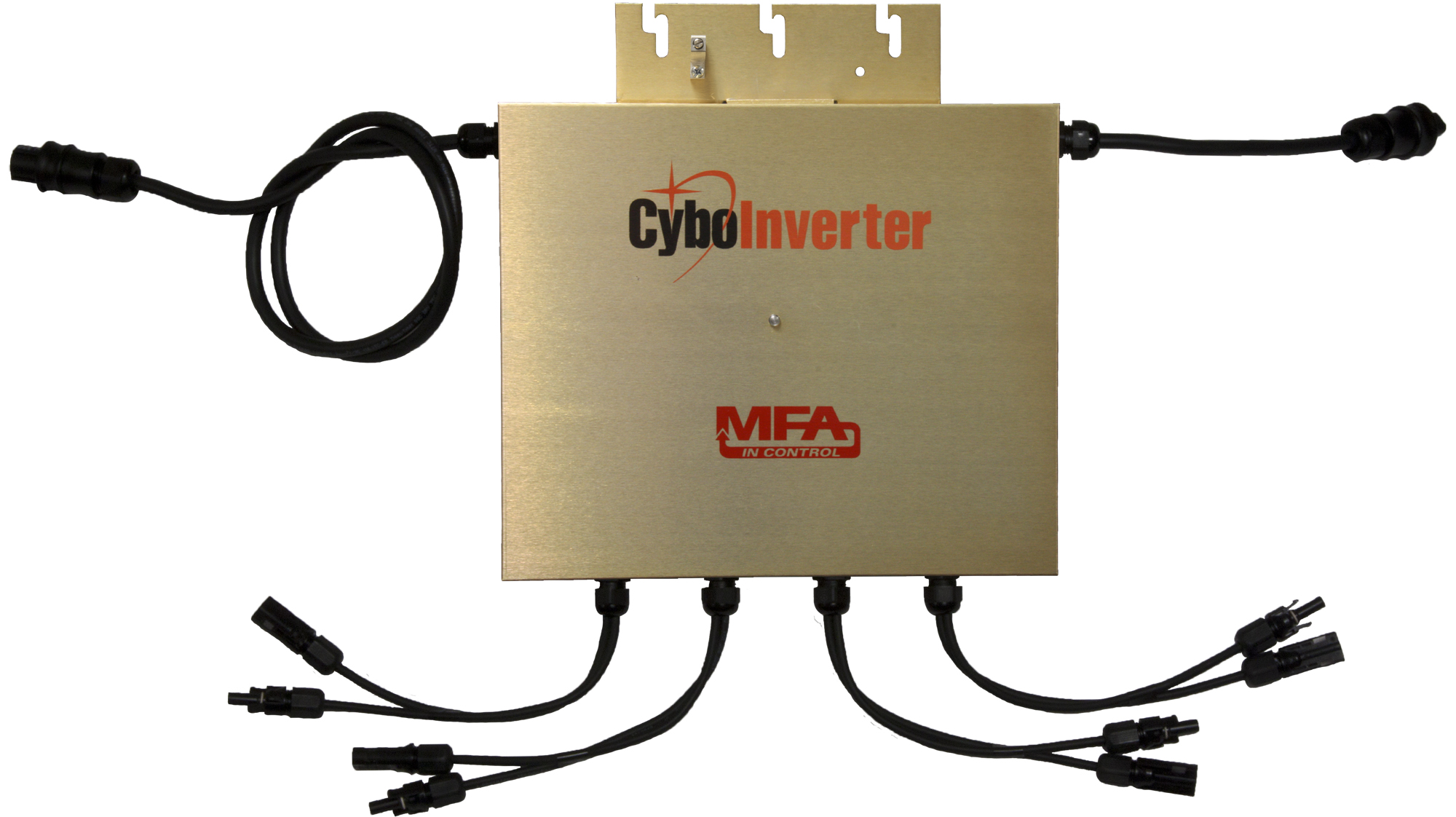 CyboInverter was first introduced by CyboEnergy at Intersolar 2011 in San Francisco and received overwhelming response from the solar community and media. Since then, CyboEnergy has continued its effort to perfect the design, prepare production, and run safety and regulatory tests, including UL1741, IEEE1547, FCC, NEMA, and CEC.
As these certification projects are near completion, CyboEnergy is handing out a provisional CyboInverter specification sheet at Booth 8336. CyboEnergy will also accept pre-orders soon with a price range from $660 down to $500 based on a volume discount schedule. This is equivalent to a $0.68 to $0.52 per AC watt price.
CyboEnergy CEO Dr. George Cheng said, "The pricing reflects our commitment to the solar industry to help reduce the total product and installation costs. In addition, CyboInverters are designed to be installer-friendly and are shipped with all necessary cables, connectors, and grounding accessories to make installation super easy."
In Booth 8336, CyboEnergy is running a live CyboInverter demo that has 4 DC power supplies as solar panel simulators. The generated AC power illuminates 10 light bulbs. One can lower the DC input voltage of a DC power supply to simulate partial shading. In this case, the lights only dim slightly to indicate that only one solar panel is affected and the remaining three still work normally. This demonstrates that CyboInverter can perform Maximum Power Point Tracking (MPPT) for each connected solar panel and solves partial shading problems. In fact, CyboInverter can connect to panels with different sizes or brands oriented in different directions or angles. This unique design significantly improves the scalability, flexibility, user-friendliness, and ROI.
For more information and to see a product demonstration, please visit the CyboEnergy booth #8336 on the second level at Moscone West Convention Center, Intersolar North America 2012 in San Francisco on July 10-12, 2012.
关于CyboEnergy
CyboEnergy是通控集团博软公司的子公司,主要致力于能源和清洁能源领域产品的研发,制造,销售及售后服务。CyboSoft(博软公司是控制技术领域中的领跑者,在世界范围内服务于过程控制,楼宇控制和设备控制市场。CyboSoft的无模型自适应(MFA)控制专利技术是一项重大突破。没有同类技术可以同时具备MFA的所有特性。
更多信息请点击:www.cyboenergy.com