March 16, 2018 – CyboSoft (Rancho Cordova, California), the developer of Model-Free Adaptive (MFA) control technology and products, has announced today that the Chief Technical Officer of the company, Dr. George Cheng, will present "How to Control Flares to Comply with EPA RSR-63.670 Rules" at 4C Conference. The presentation will be at 1:30pm on Tuesday, April 3, 2018 at Marriott Hill Country Resort in San Antonio, Texas.
CyboSoft CEO & CTO, Dr. George Cheng, said, "I am pleased to have the opportunity to present our flare control solutions enabled by CyboSoft's Model-Free Adaptive (MFA) control technology at the 4C Conference. MFA control products have been deployed at large scale in process control, building control, and equipment control since 1997." As illustrated in the following diagram, CyboSoft offers field-proven flare control solutions with its CyboCon Model-Free Adaptive (MFA) control software for steam-assisted and air-assisted flares.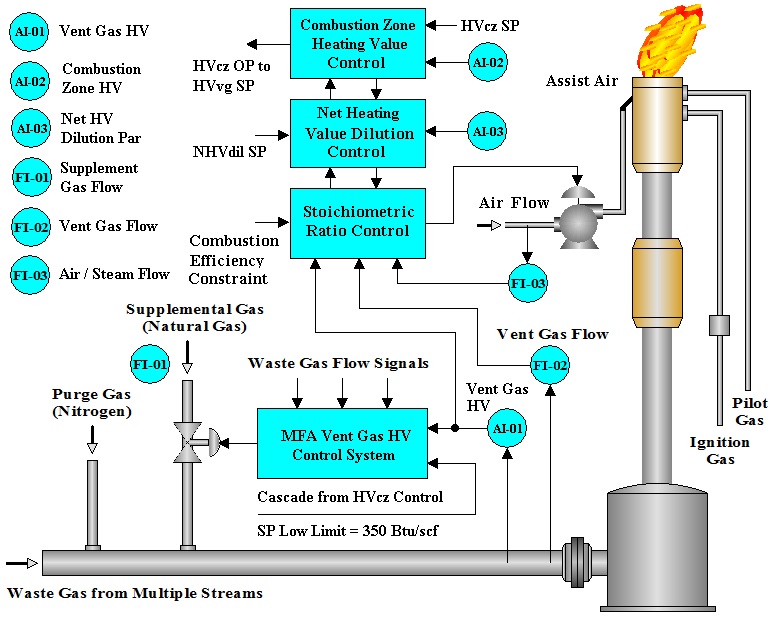 In order to comply with RSR-63.670 regulations that are due in January 2019, it is important to have real-time and effective sensors and controllers to automatically control flare process variables including combustion zone heating value, vent gas heating value, steam and/or air flows, combustion zone net heating value dilution parameter, etc.
A flare control system must be able to deal with the following challenges: (1) The vent gas flow can change widely; (2) The heating value in vent gas can change widely and quickly; (3) Nitrogen is often used as purge gas to maintain positive pressure in the vent pipe, making the process more complex; (4) There are large and varying time delays in the heating value control loops, (5) The heating value process is extremely nonlinear in different operating conditions, and (6) The steam and air flow loops are nonlinear which can make ratio control difficult. Generally speaking, flares are difficult to control using conventional PID controllers, while model-based control can be costly to develop and maintain. Model-Free Adaptive (MFA) control is proven to be effective, and easy to install and maintain for this application.
At this presentation, CyboSoft's Flare Process Modeling and Control Simulation Software as well as CyboCon MFA Control Software will be used to show a flare process under good control where the combustion zone net heating value is above 270 Btu/scf under varying operating conditions. In the Q&A session, discussions could include: (1) RSR-63.670 regulations relating to control system design considerations; (2) vent gas heating value measurement; (3) 15-minute data block calculations; and (4) integration of an advanced flare control system with an existing DCS..
On Wednesday, April 4, 2018, CyboSoft will conduct a flare control system design training from 8am to 10am at the 4C Conference. Please visit www.4cconference.com to register for the class. During the 4C Conference, CyboSoft will also offer free consultation and have one-on-one meetings to discuss specific flare control, wastewater process control, or other industrial control applications. Please contact CyboSoft to make reservations.
About CyboSoft

CyboSoft is the leader in control technology serving the worldwide process control, building control, and equipment control markets. CyboSoft's patented Model-Free Adaptive (MFA) control technology for automatically controlling physical processes is a major breakthrough. No other comparable technology possesses all the attributes of MFA. CyboSoft received the 2007 Frost & Sullivan "North America Technology Leadership Award" in the field of Industrial Automation. MFA is the only commercially successful smart controller that does not require mathematical models.

_______________________________

CyboSoft and MFA are registered trademarks of CyboSoft, General Cybernation Group, Inc.