January 18, 2018 – CyboEnergy, Inc., (Rancho Cordova, CA), announced today that it was selected by Frost & Sullivan to receive the 2017 "Global Solar Inverter Technology Innovation Award". The award recognizes CyboEnergy's achievements and excellence in innovation, leadership, and growth. CyboEnergy will be presented this award at Frost & Sullivan's Awards Gala to be held in Disney's Grand Hotel in Anaheim, California, on January 24, 2018.
CyboEnergy CEO Dr. George Cheng said, "Our customers, partners, shareholders, and team members are a crucial part of this latest recognition and achievement. Frost & Sullivan is the most well respected market research company in the world. This prestigious award inspires us to be even more diligent in our quest to help build a cleaner and greener world."
Frost & Sullivan's Chairman, David Frigstad quoted, "To achieve excellence in technology innovation is never an easy task, but it is one made even more difficult considering today's competitive intensity, customer volatility, and economic uncertainty–not to mention the difficulty of innovating in an environment of escalating challenges to intellectual property. Within this context, your selection as recipient of this Award signifies an even greater accomplishment."
To win the Technology Innovation Award, a company must demonstrate excellence in innovation, leadership and growth. This kind of excellence typically translates into superior performance in three key areas: demand generation, brand strength, and competitive differentiation. This three-fold focus must ideally be complemented by an equally rigorous focus on visionary innovation to enhance customer value and impact.
CyboEnergy offers on-grid, off-grid, and on/off CyboInverters. First released in 2013, the patented CyboInverter is the world's first solar power Mini-Inverter that possesses the key merits of both central / string inverters and microinverters. CyboInverters offer better safety, scalability, grid-flexibility, DC-source flexibility, high efficiency, long life, easy installation, and good per watt price. In June 2015, CyboEnergy released the groundbreaking On/Off-Grid CyboInverter that can operate in either on-grid or off-grid mode, switching between the two modes automatically, depending on the grid condition. This enables the same solar power system to generate power to the grid and also act as a power backup system when the grid is down. In July 2017, CyboEnergy released a family of battery-less off-grid and on/off-grid CyboInverters that can run Inverter-Air-Conditioners (IAC).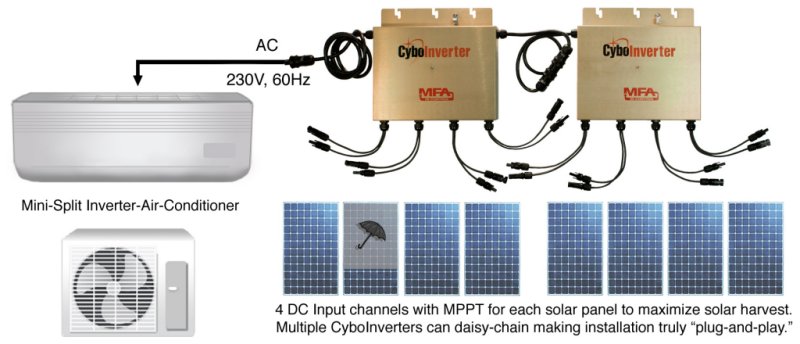 These visionary innovations are direct results of CyboEnergy's technology excellence focused on developing solutions that increase customer value multifold. Frost & Sullivan's Industry Principal Gautham Gnanajothi said, "Due to grid capacity limitations, on-grid solar systems are no longer welcomed or cost much more to implement in many parts of the world. CyboEnergy's unique battery-less off-grid CyboInverters for electric water heaters and for Inverter-Air-Conditioners (IAC) can change the landscape of the solar industry."
For this Technology Innovation Award, the following criteria were used to benchmark CyboEnergy's performance against key competitors: (1) Addressing Unmet Needs, (2) Visionary Scenarios Through Mega Trends, (3) Blue Ocean Strategy, (4) Price/Performance Value, (5) Customer Ownership Experience, and (6) Brand Equity. Gnanajothi of Frost & Sullivan added, "CyboEnergy's contribution to the solar PV industry is highly commendable. The smart and scalable CyboInverters with multiple input channels enabled by Model-Free Adaptive (MFA) control are expected to become fundamental building blocks for advanced renewable systems of the future."
About CyboEnergy and CyboSoft
CyboEnergy is a subsidiary of CyboSoft, focusing on development, manufacturing, marketing, and services of product lines in the renewable energy field. CyboEnergy received the Frost & Sullivan's 2013 Global Product Differentiation Excellence Award for Solar Inverters.
_______________________________

Cybo, CyboSoft, and MFA are registered trademarks of CyboSoft, General Cybernation Group, Inc.
CyboEnergy and CyboInverter are registered trademarks of CyboEnergy, Inc.